In a solid marriage, our children are not intended to be our primary focus. The primary emphasis is intended to be the couple's relationship. In the illustration of the three rings below, the parents are divorcing so the "ring" symbolizing the child is now on top signifying that the child is now the primary focus. The rings show the importance of the connection between the child and both parents.
You may recall how you felt as a child, if someone said anything negative about your parents. More than likely, you immediately became upset and wanted to verbally defend your parent. You may have also chosen to verbally attack them back. It may seem that your attempt to defend was simply an act of love, an act of protection for your parent. Although it is likely part parental love, it is also part self-love. When we defend our parent we are also defending our own self-esteem. This is because a child's sense of self is strongly linked to how they view their own parents. If they believe their parent is loving and honest, they are likely to internalize these same qualities. If they believe that there is something wrong with their parent, they fear that they are also flawed. If they believe their father is useless and irresponsible then they will fear the same holds true to themselves.
As noted by our trade mark for Cooperative Parenting and Divorce, the three rings show how a child's sense of self links with, and overlaps with, the parents on either side. Subsequently, the next illustration shows the impact when one parent is critical of the other parent in the presence of the child. It can be as simple as the father saying something negative about the child's mother or simply rolling his eyes when the mother calls to speak with their child. The father's message is loud and clear that there is something wrong with the mother. Witnessing such actions damages a part of the child's sense of self.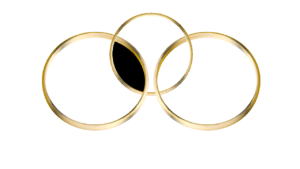 Parents who are going through a divorce or separation must not discuss their negative feelings about the other parent, or the details about the divorce, with their child present. Not only will this place the child into the middle of the parental conflict which creates a tremendous loyalty bind, it will significantly harm the child's self-esteem. If more parents fully understood the damage committed when they share the details or criticize the other parent, perhaps they would be able to take a step back and quickly eliminate the inappropriate behaviors.
From another perspective consider the child who loses one parent. In this illustration, the child's one parent has either left or has been pushed out of the child's life. The damage of losing a parent not only eliminates the benefit of having two parents, it harms the child's sense of self because an integral part of them is missing. Furthermore, a child who has a parent disappear for any reason is at risk of believing that their self-worth is seriously lacking. Children are at risk of thinking: "If they loved me, they would not have left me" or even "They would never have run away if I had been a better child!" The bottom line is that the child does not consider there may have been other circumstances as to why the parent is no longer in the picture, or that the disappearance may be a statement of their parent's flaws. Instead, the child will turn the situation onto themselves. In this illustration you can visualize the dramatic hole left in the child's sense of self-esteem with the other parent missing. To learn more about ways in which you may inadvertently harm your child during and after divorce read "What is Divorce Abuse"
Susan Boyan, LMFT
susanboyan@cooperativeparenting.com
The three rings are trademarked by Cooperative Parenting and Divorce; A Parent Guide to Effective Co-Parenting by Boyan and Termini